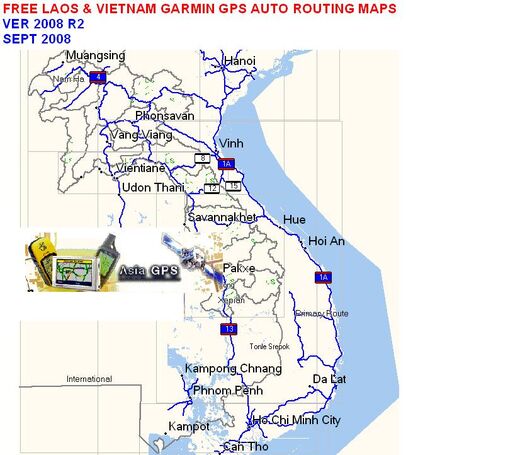 This is a newly set up mapping community formed in Sept 2008.

There is a complete coverage of Garmin compatible auto routing and topo GPS maps for Laos and Vietnam and parts of Cambodia and Thailand (major highways with some street details in major cities).

These maps were first created by rcmaps around Aug 2007 while preparing a trip to Thailand, Laos and Vietnam and found little or no free maps available at all, hence rcmaps proceeded to undertake a project to create these countries' maps from publicly available data sources. More details around this can be found here.

Thousands of kms of 1 sec tracklogs were collected during the trip around Nov 2007 - Jan 2008 which have since been used to update and re-align the highways and add new roads etc to the maps. Meanwhile some members from Malsingmaps had also kindly donated their own tracklogs of travels around Laos. This involved probably another few hundred hours of work to get it into shape.

Meanwhile, asiaGPS moderator and owner of the AsiaGPS site contacted rcmaps and very kindly and generously contributed his expertise and time and at his own cost set up this new community forum to help other users and continue development of these maps.

The current objective is to significantly improve these maps and fill in white spaces from what was a "tourist" oriented map to a detailed and useful set of GPS map for both tourists and residents of these countries to use and enjoy.

The grander vision is to complete mapping Indo China covering Thailand, Cambodia and perhaps even Myanmar. Upon completion, it is hoped that users will be able to prepare for trips and auto route from throughout Singapore and Peninsula Malaysia into Thailand and ultimately into the Indo China region.

Discussions had already been underway to aim for consistent boundary, interconnecting highways, common mapping standards whenever possible with North Thailand Routeable map prepared by MSM's KC.

The immediate mapping focus is to add street details to major cities and improve the contour lines of the maps by using SRTM and/or NOAA data.
As we are a young and growing community, we will most certainly value your support in reporting corrections or submitting tracklogs to improve the maps. For those interested in mapping there are still limited spaces available for mappers to join and contribute to the project.
---
--rcmaps 11:20, 21 September 2008 (UTC)